Cooking Up Teamwork!
A unique, fun-filled experience bringing your group together while preparing
a custom created menu. Prep ingredients at designated kitchen stations under
the guidance of our professional chef, followed by a delicious dinner.
Book your ultimate culinary team building adventure now!
Popular Events Are…
Team Building

Employee Incentive

Holiday Party

Client Entertaining

Networking
GOURMET MENU ~ 12-24 guests
Three-Course Menu, starting at $145 per person, plus 20% gratuity (Steak)
Three-Course Menu, starting at $135 per person, plus 20% gratuity (Chicken or Pork)

Pricing Based on Monday – Friday Bookings / Call for Weekend Pricing
SMALLER GROUPS: Groups smaller than 12 persons, email or call for pricing
DIETARY RESTRICTIONS: We're happy to work with you in creating a custom
menu to accommodate any allergies, food restrictions, etc.

EVENT INCLUDES
• A Custom Created 'hands-on' Cooking Classes
• Recipe Booklet for each guest
• Mineral Water and Coffee
• Class prices vary upon the class length, menu & ingredients selected
• CHEF HATS – add for just $3 each
ITINERARY EXAMPLE
• Cooking Time 2-2½ hrs.
• Dining Time 1 hr.
---
Take Home Gift Bags
Send your guests home with a customized gift bag
– select from Le Chat Gourmet aprons, t-shirts or gourmet cook's tools.
---
MEET the CHEF
Get to know the chef while being divided into teams and becoming familiar
with your cooking assignments.
---
TIE ONE ON
An apron that is!
---
THINGS HEAT UP
Head to your workstations, gather your ingredients, get organized and stuck into some 'hands-on' culinary prep while the chef assists everyone with individual attention and support.
---
NOW YOU'RE COOKING!
You've prepped your ingredients now fire up the stovetop, preheat the ovens and get cooking!
But remember, other team members may need burners and oven space so let's communicate.
---
SIMMER DOWN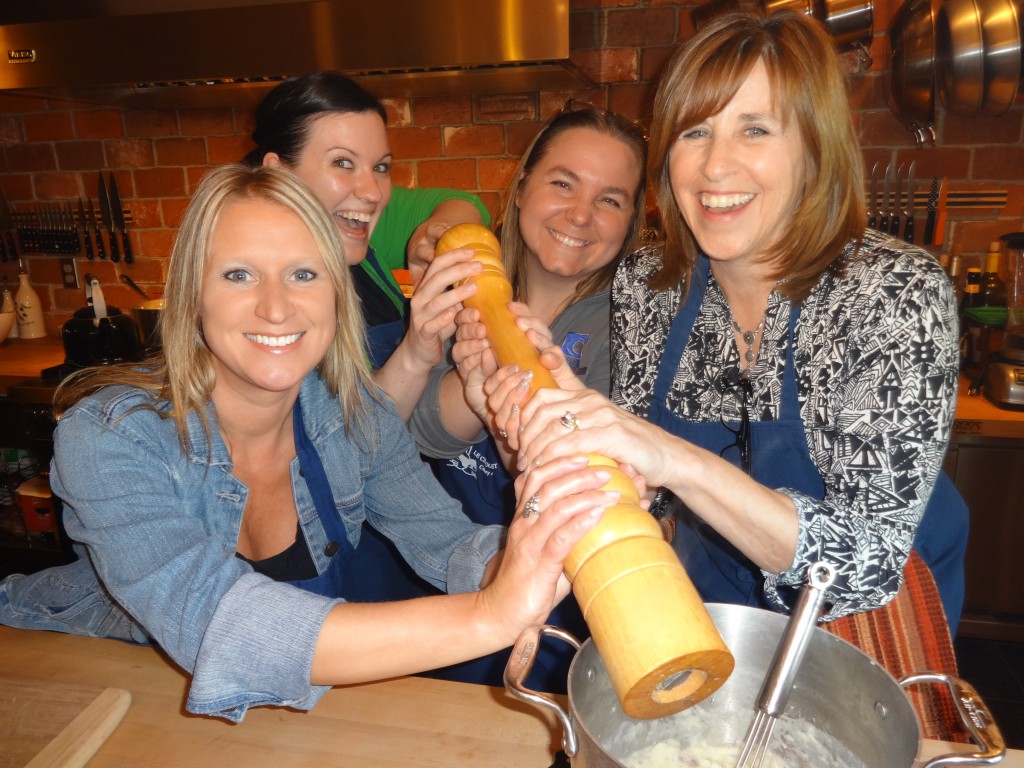 It's time to pull all the dishes together and artistically plate your creations!
---
BON APPETIT
The moment everyone has been awaiting, gather at the dining table to celebrate
your group accomplishments by partaking of your dishes!
---
AU REVOIR

Your fun-filled day at Le Chat Gourmet has come to close but never an end
– you depart with wonderful memories and team spirit!